A beautiful girl goes to the surgeon and explains that she had a boyfriend that had as great a love as bad a spelling. She has tatoos all over her body with love messages such as:
I lav U –
You are the vest thing that hapened to mee –
I will alvays lav u mi dear –
Lav is all u nid –
Foreber yours, Peter –
Peter lovs Emily –
Emily and Peter togeter for ever

The surgeon smiles, with superiority, and promises a solution, changing or moving the letters for correct spelling.
One more thing, the boyfriend is no longer Peter, but Johnny.
Next scene, the girl lies in the operating table, and the doctor and a nurse start the surgery.
But at the cutting time, the surgeon thinks twice, and confess to the nurse that he does not recall the proper spelling for most words.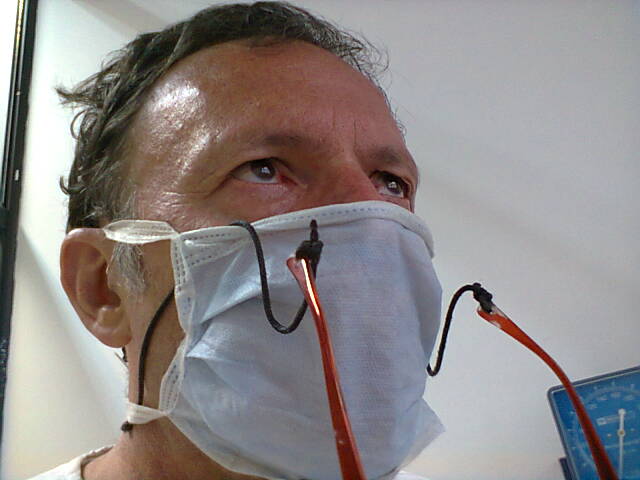 Neither does she…
Next scene, the letters have been cut out of the patient, and the nurse and the doctor are arranging them, as people arrange Scrabble letters during a game.
The doctor is about to cut out the name Peter, when someone enters the room, with a flower, talks to the ear of the sleeping beauty, and manages to awake her.
She instructs the doctor to leave the name Peter in the tattoo, which is located above the pubic bone, with an arrow pointing down…
The boyfriend leaves the room, but almost immediately another boy enters the room, with a small bunch of flowers, talks to the girl, and obtains to have his name in the tattoo. It is Albert.
A third boy with more flowers enters the room, does the same, and gets the girl to tattoo his name: BARTHOLOMEW GIULIANO. The surgeon and the nurse refuse. They discuss and agree on BG.
The boys meet and start a fight. The surgeon changes the BG to "my dear".
Finally, the girl is ready. The phrases have been fixed. In addition to the names, there are tattoos with the credits for the movie. Including myself as a writer.